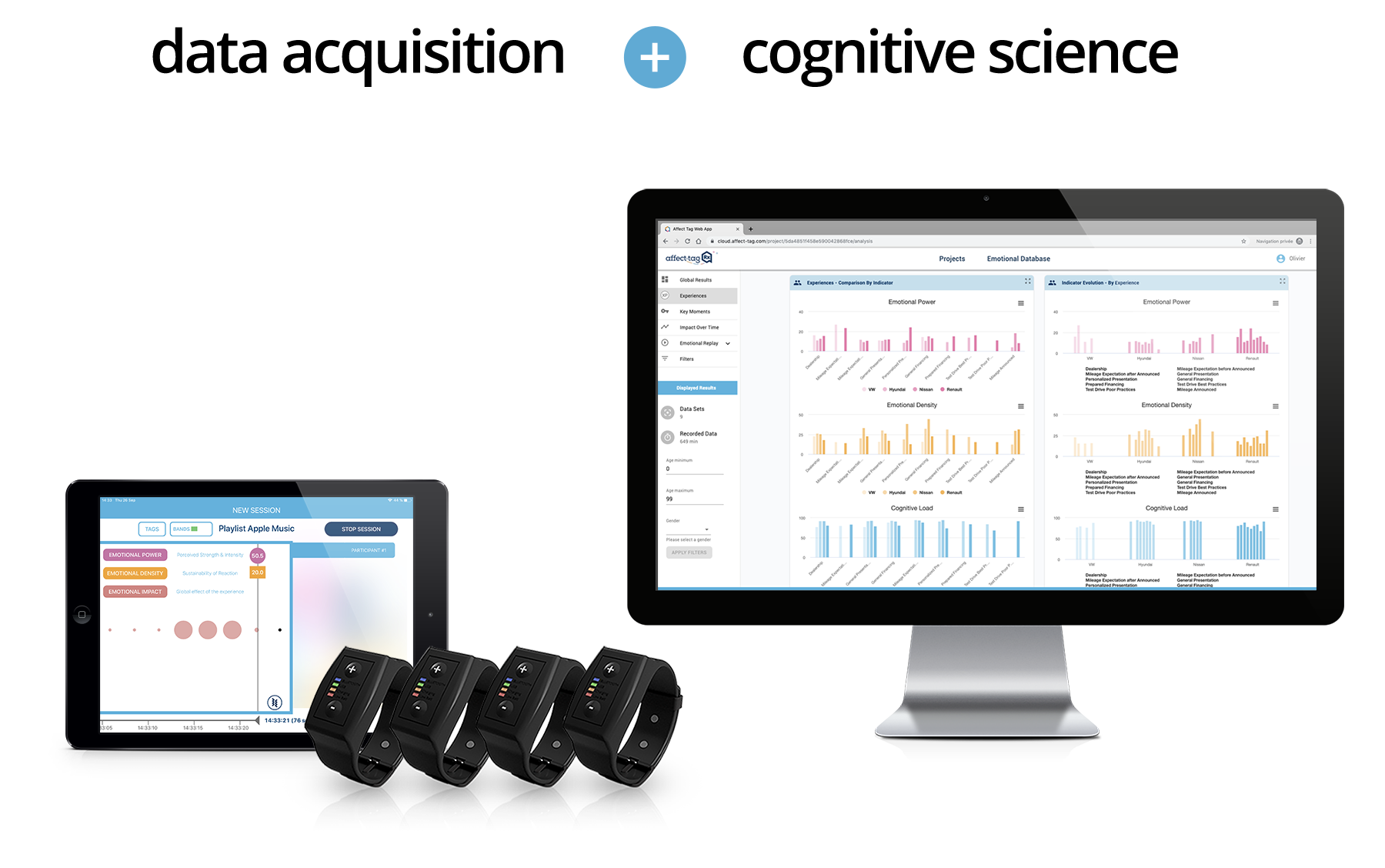 The Emotional analytics Web App
The catalyst of your greatest insights!

Embrace the power of RX cognitive data science!
EMOTIONAL ANALYSIS VISUALIZATIONS

✓ Access relevant dashboards and visualizations
✓ Get insights from Cognitive Science validated indicators
✓ Filter results to refine your analysis
SURVEY MANAGEMENT
✓ Create projects and prepare your fieldwork
✓ Push the survey parameters to the field operators
✓ Check the data set quality and launch the analysis
ACCESSIBLE DATA
✓ Export the emotional data into *csv and *xlsx formats
✓ Download the graphics for quick integration into presentations
✓ Benchmark results with the global database of your projects
CORPORATE ACCESS
✓ Manage team and collaborators
✓ Supervise subscription details
✓ Keep your data safe on our secured hosting in Europe
Take a free tour
The acquisition tools
Easy to integrate in lab envronments, Affect-tag RX is also light and mobile and can be deployed
in any survey field and real-life situations.
The connected smartband
The smartband offers continuous data acquisition in any surroundings. It is non- intrusive and does not introduce awareness bias.
RELIABLE ACQUISITION

✓ Physiological data acquisition at an optimal frequency rate
✓ Medical-grade electrodes
✓ Fitted contact with the wearer's skin
REAL-TIME PROCESSING
✓ Removal of movement artifacts
✓ Calculation of Emotional indicators
WIRELESS CONNECTION TO THE APP
✓ Emotional data streamed to the in App display
✓ Automated switch to data storage mode when disconnected
SIZEABLE AUTONOMY
✓ 24 hours of battery life
✓ 6 hours of data recording
The mobile App
Affect-tag RX on tablets is the control center of the emotional data acquisition.
QUICK PROJECT MANAGEMENT
✓ Adapt parameters to the needs of your survey
✓ Edit the participants list and create additional Key Moments
EMOTIONAL MEASUREMENT SESSIONS
✓ Kick-off your sessions with selected participants
✓ Use auto-detection and connect up to 4 smartbands
✓ Calibrate the participants and launch the session
CONTEXT LOGGING
✓ Align emotional data with moments of interest
✓ Tag and create additional Key Moments in real-time
REAL-TIME MONITORING
✓ Oversee the autonomy of the smartbands
✓ Observe the Emotional indicators for each participant
FIELDWORK DATA SYNCHRONIZATION
✓ Retrieve and consolidate all data with a single tap
✓ Synchronize data to the cloud via wifi for complete analysis
Download on the App Store
The Affect-tag RX Suite in pictures
RX constantly improves. The features and visuals may slightly change with your version.